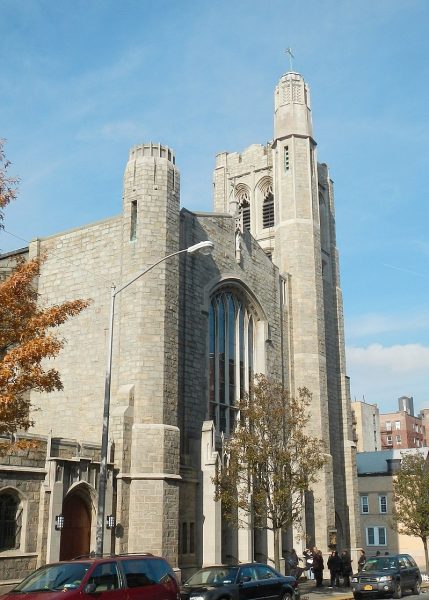 Founded in 1869. The first church building was located at EL 4381 Broadway at 187th Street, St. Elizabeth Roman Catholic Parish in Fort Washington Heights (as it was then called) was founded in 1869.
Nicholas Le Brun designed the first church building, which was located at 4381 Broadway at 187th Street, which was given by James Gordon Bennett of the New York Herald, who had embraced Catholicism in his later years. The church was dedicated by Archbishop McCloskey on January 14, 1872.
In 1925, the church burned and a new structure was built one block east on the southwest corner of Wadsworth Avenue and 187th Street. Designed in 1927 by Robert J. Reiley, the exterior is neo-Gothic in style, while the spacious interior, a square room that is as wide as it is long, resembles a Tudor Gothic hall with a flat-beamed ceiling.
Along the side walls are stained glass windows depicting the story of Christ, and in the front are frescoes and two large paintings surrounded by Carpenter's Gothic details. The church was dedicated by Cardinal Hayes on September 15, 1929.